---
Yesterday it was announced that Microsoft co-founder Bill Gates had ordered the Aqua hydrogen-powered superyacht, but later the Sinot company denied this information. The vessel will be launched no earlier than 2024.
The cost of the yacht is estimated at $644 million. It was developed by the Dutch company Sinot, which first showed a miniature model of the ship at an exhibition in Monaco in December 2019. Designer Sandler Sinot said the inspiration for the creation of the yacht was "into the lifestyle of a discriminating and visionary owner."
---
---
The AQUA five-deck superyacht is 112 meters long. It can accommodate 14 guests and 31 crew members.
It will be powered with liquid hydrogen that is located in two 28-ton tanks with temperatures up to -253° Celsius or -423.4° Fahrenheit. It will be converted into electricity thanks to the fuel cells on the proton-exchange membrane. The exhaust will be ordinary water.
The vessel will be able to reach a speed of 17 knots, i.e., more than 30 km/h. Without refueling, Aqua will be able to cover over 6,000 km. Nevertheless, the shortage of hydrogen gas stations forced engineers to equip the yacht not only with large batteries for storing electricity but also with an additional backup diesel engine.
---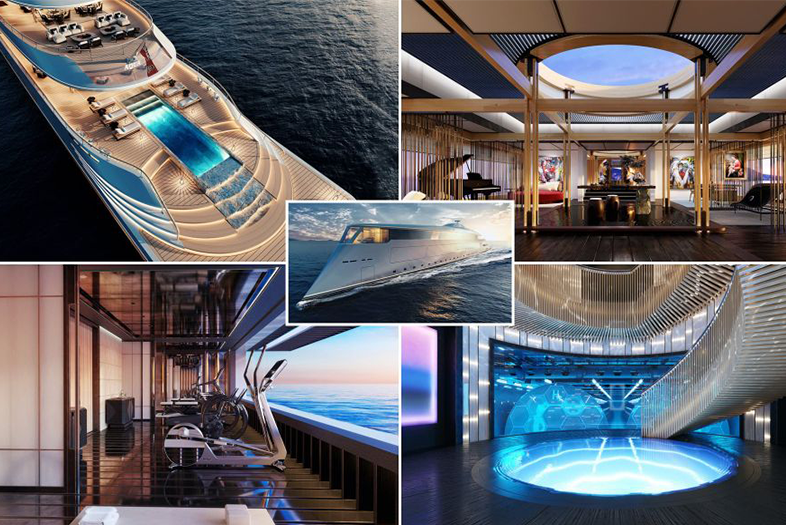 ---
Sinot emphasized that this project is a breakthrough in terms of technology, aesthetics, and design. The design of the vessel uses a lot of wood and glass.
The superyacht will have two Japanese-style VIP cabins with panoramic windows, a cascading pool, yoga studio, massage room, gym, private spa equipped with a hydromassage room, and a relaxation area.