On June 10, the stock price of the electric vehicle manufacturer exceeded $1,000 on the NASDAQ exchange for the first time in Tesla's history. Since the opening of trading, the share price has increased by 7.87%.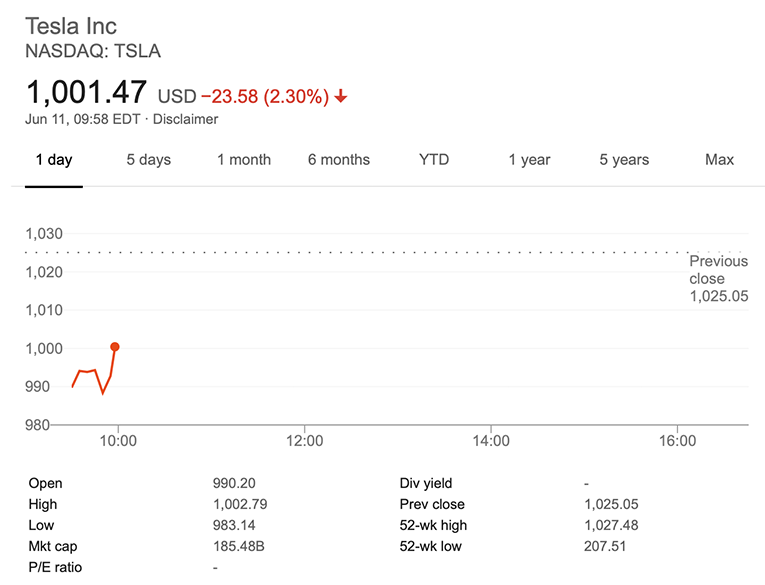 As a result of the new leap, Tesla's market capitalization reached $190 billion, and according to this indicator, Elon Musk's company was ahead of Toyota for the first time, having taken the title of the most expensive public company in the automobile market from the Japanese automobile giant. In January, Tesla's market capitalization exceeded $100 billion for the first time.
Toyota shares fell slightly after the opening of trading, and now the Japanese company is valued at $182 billion. Since the beginning of the year, the Japanese giant has lost 7% of market capitalization. Volkswagen closes the top three most expensive automobile companies with a market capitalization of $82 billion.
Over the past year, the value of Tesla shares has grown five times. On June 10, 2019, the cost was $212.88 per share. Since the beginning of 2020, Tesla's stock price has been declining only once in early March, when most of the world began to feel the impact of the COVID-19 pandemic. Since April, it has been growing steadily, except when Musk wrote on Twitter that his company's shares were overvalued. That tweet caused shares value to fall by 8% for a short while.

What's interesting? At one time, Toyota owned a large part of Tesla. In 2010, Toyota invested $50 million in Tesla and arranged a deal to sell the Nummi factory on mutually beneficial terms, which is now Tesla's Fremont factory.