The Bitcoin rate renewed its historical maximum. In 2017, its price rose to nearly $20,000. On the day of the 2020 United States presidential election, Bitcoin's rate (BTC) briefly rose above $14,000. On December 16, the most popular cryptocurrency took another significant milestone — for the first time in its history, its value exceeded $20,000 per coin.
The new maximum rate, recorded during trading on December 16, was $20,817. However, less than 24 hours after it topped $20,000, BTC is more than halfway to the $25,000 milestone. It is evidenced by data from the CoinDesk website, which tracks the cost of cryptocurrencies on different exchanges.
As of December 17, the Bitcoin price had increased past $22,634.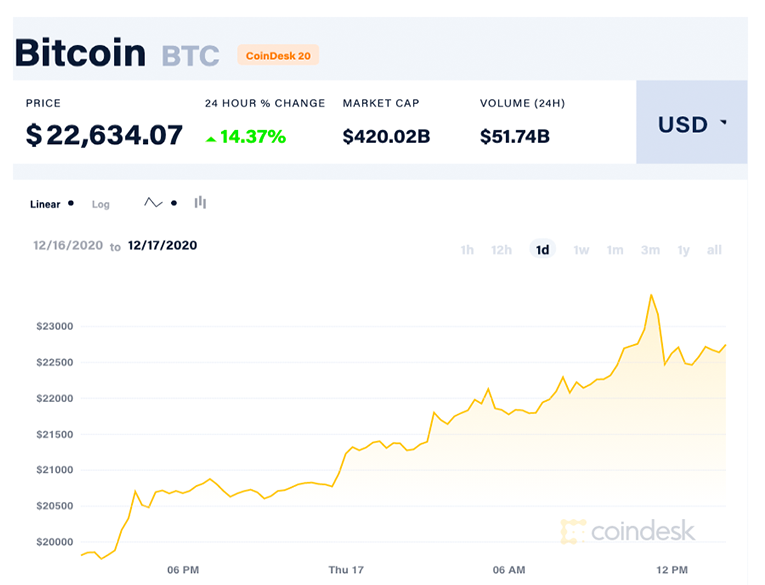 The Bitcoin leap that coincided with the US presidential elections wasn't a surprise. In previous elections, the situation was the same: in November 2016, the Bitcoin rate rushed up, and the cryptocurrency rose from $700 to $20,000 by mid-December 2017, after which there was a sharp collapse.
But now there is another surge of interest in cryptocurrencies, which increases their value. Over the past year, the leading cryptocurrency, Bitcoin, has risen in price by 180% due to a general increase in investor interest in risky assets and hopes that cryptocurrencies will become a generally accepted means of payment in the future.
As it usually happens, other major cryptocurrencies are becoming more expensive along with Bitcoin.