Frankly speaking, a few months ago, the vast majority of people were not really taking a responsible approach to budget planning or having a financial cushion. It seemed like there were plenty of projects to work on and that it was more pleasant to live in the moment.
If you want to make coronavirus laugh, tell it about your plans. The rapidly increasing unemployment rate and an approaching economic crisis have changed our plans. And if you can live without another online course in quarantine somehow, you'd better not put off improving your financial literacy.

Do you know how much money you used to spend on groceries, coffee, and taxi per month? Fortunately, keeping track of your budget is super easy today because all you need to do is to download an app and (the hardest part) remember to record your expenses in it.
When this action becomes a habit, you will see what exactly you spend the most money on and will control yourself. A light will turn on in your head, signaling that you will not be able to forget about those $100 that you spent on bath bombs because you actually added this expense to an app. In this article, we have chosen 6 convenient apps for financial accounting.
---
Mint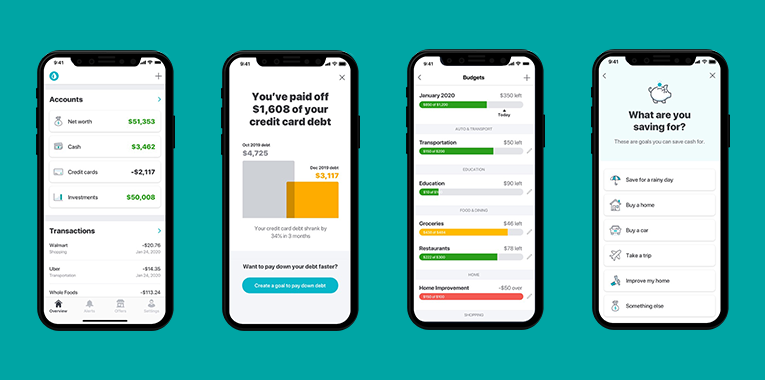 This app has extensive functionality. In order to effectively work with the app, you need to link all your bank cards to it. Mint will update the balance on all your accounts (it is convenient if you have multiple accounts with different currencies).
The application will compile graphs by cost category, remind you to pay bills and debts, and even send you tips on how to avoid falling in a deep debt hole. You can also set up an alert system that will warn you when your expenses approach the set limit.
PocketGuard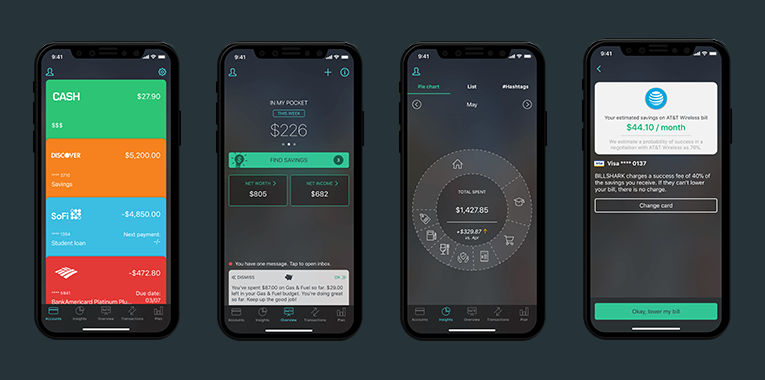 You can also link your credit cards to this app. The main advantage of this application is cost planning. It takes into account how much money you will have left after you make all the necessary payments (rent, utility bills, loans, etc.). Then you can divide this sum into periods. For example, you can find out how much money you can spend daily or weekly. This feature is useful to those who spend their salary in a week and then try to figure out how to make it till the next paycheck.
YNAB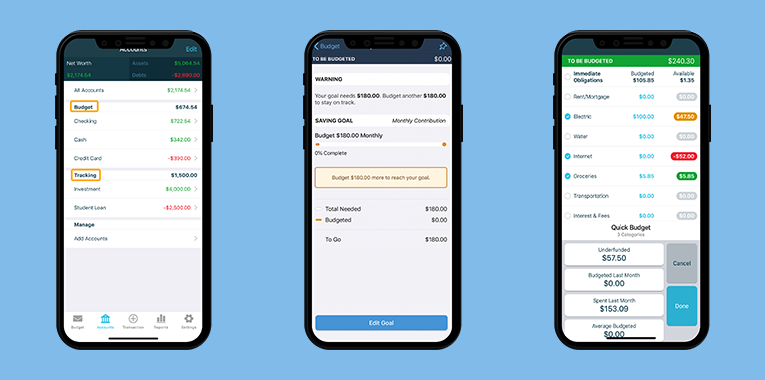 You Need a Budget is an app for serious people. The application will not only help you not to get into a financial hole but also will offer you to invest and pay off your debts in time. YNAB's philosophy states that every dollar you earn should work. This doesn't mean that on the first day of every month, you are left without a penny on your bank account. However, it is beneficial to transfer these free funds to a deposit or invest them. Therefore, you are offered to determine the goals and indicate them in the app. This is the only paid app on the list ($12 per month), but a 34-day free test mode is also offered.
Cleo
If charts and tables make you feel bored, use an app that works as a chatbot. After you open access to your bank accounts, at your request, Cleo will report the balance of your savings, will control your expenses, and will advise you how to save money this week. All this along with gifs, memes, and funny jokes – it's as if your friend became your personal accountant. This app is a hipster dream. And if you are sad and already bored with Siri as your interlocutor, you can chat with Cleo about things and even play text games. It's a great activity during the self-isolation period.
BillTracker
For iOS users only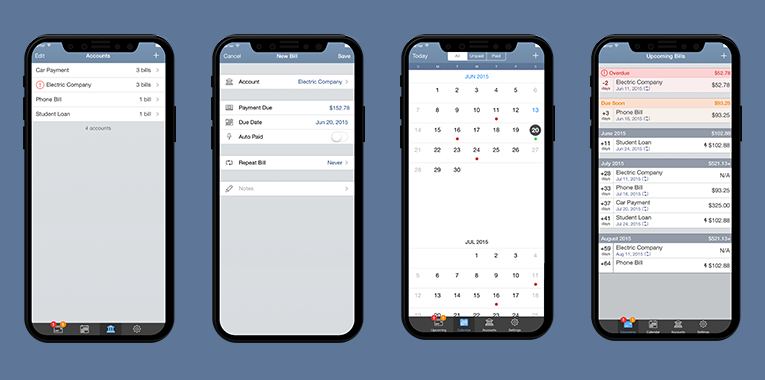 If you don't feel like giving any apps access to your accounts, we also have some unobtrusive applications in mind. In such apps, you need to remember to enter your data manually and personally calculate the balance. BillTracker is an application where you will indicate your mandatory monthly payments. In fact, it works as a calendar: you put down the dates and what you need to pay for and when, and the app on time reminds you that it is time to pay the bills. A good option if you often forget about utility bills. The con of the app is that it is only available on iOS.
Moneon
Another simple "manual control" application. You can connect your cards to it, or you can keep records of different categories independently. It is very convenient to analyze your expenses at the end of the month and compare them with the previous period. The main advantage of this app is that you can keep records with someone. It is convenient if you have a shared budget with your family or partner.
There are more hardcore options for managing your budget, like Excel tables or Google Sheets. If you spend a bit of time and try to understand how they work, then budgeting there will be quite easy, safe, and reliable.
Anyway, whatever you choose, the first steps to financial literacy need to start with cost control – they should not exceed your income. And the ideal option that you need to strive for is a cash reserve of one or two salaries.
---
If you want to find out whether you are a saver or a spender, try our quiz.