In 2018, Dr. Vladimir Zelenko published an autobiographical book Metamorphosis, in which he talks about how he, being a completely non-religious young man, came to faith, and how he overcame a serious illness. The book has multiple positive reviews online and was well received by the readers all around the world.
The book will be posted chapter by chapter for free on The Internet Protocol.
---
The books of Vladimir Zelenko. Part 1: Metamorphosis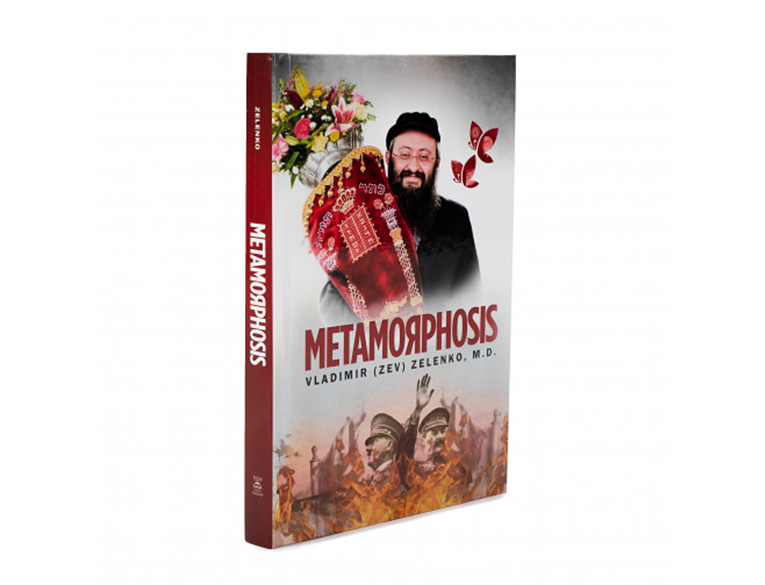 This book is a must-read! This is not another typical boring autobiography – it is an inspiring life journey that leaves a pleasant aftertaste and plenty of room for thoughts and introspection.
The book is about how important it is never to give up and always find ways to move forward in life. Dr. Zelenko bares his soul to the reader. Without pretentiousness, he tells the reader in a simple, understandable and honest language, both about the positive moments of his life, and about the painful experiences of the recent past. The book is about how to come to faith, how to survive grief and divorce, and, most importantly, how to take the most challenging life lessons and go through them like a phoenix.
A deeply personal journey of spiritual self-discovery. This book chronicles the life of a highly respected family physician. Dr. Zelenko is a Lubavitcher Chasid who is the primary care provider for most of the Satmar community in Kiryat Joel, N.Y. This book describes how divine providence has guided and helped him overcome very difficult personal challenges including divorce and cancer.
A few words about who Dr. Zelenko is:
Dr. Vladimir (Zev) Zelenko, M.D., is a board-certified family practitioner in Monroe and Monsey, New York. He is highly respected and beloved by his patients. He has a truly unique and out-of-the-box approach to patient care. He focuses on each patient's physical, emotional, intellectual, and spiritual needs, and attempts to find integrative solutions that address all these important concerns.
He gained wide popularity after the publication of an open letter to Donald Trump on March 26, 2020. In his letter, Dr. Zelenko emphasizes that he has developed a drug treatment regimen that has an effect on COVID-19 patients already in the pre-hospital period.

Dr. Zelenko's Metamorphosis received a lot of positive reviews from the readers:
By Heschel Greenberg:
The question is asked: How did the guard know what was in the hearts of those prospective students? One of the answers is that they did not let anyone in. Those who found a way of breaking down barriers and finding unconventional ways of getting in demonstrated that they were sincere: tochom-kibarom. Zev has demonstrated how obstacles to his spiritual growth were only Divine instruments to elicit unconventional resources to get into Hashem's embrace. Zev takes G-d and Yiddishkeit seriously. What he does on the outside reflects who he is on the inside. Zev's pnimiyus is a thread that runs through Metamorphosis. It would be an understatement to say that the book is inspiring. It is testimony to a Jewish soul's ability to transcend the externalities of life. It is a must-read for anyone who is sincerely interested in spiritual growth.
Rebbetzin Soshe Teitelbaum:
I enjoyed reading the work and biography of Dr. Zelenko. This book gives the reader a tremendous feeling of emunah and bitachon. I highly recommend it.
Ari Felberman:
Having read Metamorphosis, I was awed by Zev's quantum spiritual growth despite lacking even the most fundamental religious building blocks. Rising above all obstacles, Zev excelled to become a great, famous physician and role model. Readers of Metamorphosis will be inspired to emulate Zev's can-do approach to life with a spirit of hope and renewal.
Moshe Aron Steinberg:
I was deeply moved after reading Dr. Zelenko's Metamorphosis. It is my feeling that this book will inspire Jewish souls for generations to come. I pray for Dr. Zelenko's complete recovery from his recent serious medical illness.
Yoel Wagschal:
I am inspired to see how Dr. Zelenko conducts himself while he is recovering and on chemotherapy. Instead of getting depressed and angry, Zev has "metamorphized" his pain and illness into something extremely positive by writing this book. This book will inspire many people and serve as a zechus (merit) for him and his family.
Dov Markowitz, P.A.—C
Dr. Zelenko's education, intellect, knowledge, and experience is apparent to everyone who interacts with him, yet Dr. Zelenko treats each person with respect and dignity regardless of title, rank, or class, something that is not easy to find in the professions. This is what makes Dr. Zelenko the best employer, colleague, teacher, friend, and doctor.
Mrs. Hanna Landau:
Dr. Zelenko, I applaud you as an amazing human being, doctor, advocate for the less fortunate, and above all as a mentsh. It is a true honor and rare privilege to know you. May G-d help you have a complete recovery from your personal medical challenges. We eagerly await your full-time return to medical practice. My family and the community depend on and miss you.
Yoel Rubin:
Dr. Zelenko, my blessing to you is that you should always be able to shed light into people's hearts and minds. Your journey from now on in life should only be happiness, and you and your wife and your precious children should have harchavas hadaas, and siyata di'shmaya, and kol tuv.
Anonymous:
In my humble opinion, I think the same could be said of your situation. Even though we don't understand G-d's ways, we can speculate that your suffering is somehow designed to help the thousands of people who depend on you. I pray that you should completely recover, and we should merit to have our beloved doctor back.