Instagram is now rolling out the new Pinned Comments feature for all users worldwide, making it available for everyone. It allows you to pin your favorite comments to the top of any thread of the post, giving you an easy way to encourage positive interactions. It is basically designed to give users more control over the conversations happening on their posts and help them moderate abusive and negative responses.
In its blog post in May, the social media company announced that it would soon begin testing this feature. Now, everyone can finally give it a try. Over the last several months, Instagram has also introduced some other improvements and features, dedicated to combating misinformation, abuse, and offensive content. They include comments filtering tool, the option to disable paid-for political ads, a tool for the bulk-deletion of comments, warnings about posts that can be potentially harmful or offensive, and choosing who can tag and mention you in posts.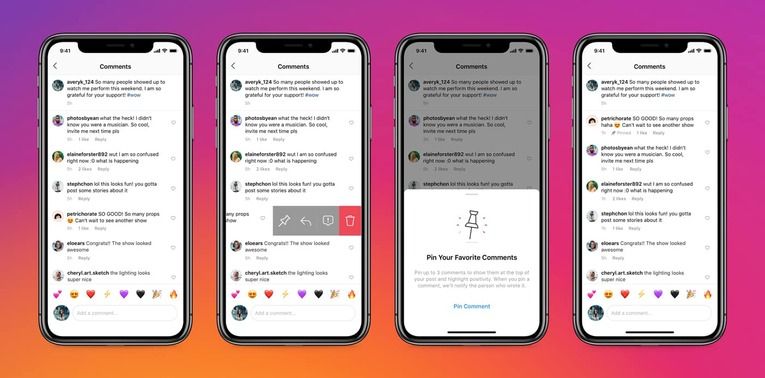 "This feature gives people a way to set the tone for their account and engage with their community by pinning a select number of comments to the top of their comments thread," stated the company, announcing the testing of Pinned Comments.

How to pin Instagram comments?
To pin a comment in a thread, simply swipe left on the comment if you are using an iOS or Android app. In a separate menu, you will see a pin to click on. This way, you can pin up to three comments to each post. Also, users whose comments were pinned will get a notification about it for added transparency. Pinned comments will be labeled, and to unpin them, swipe left and click the pin button again.
To try out the Pinned Comments feature, make sure you've updated your Instagram app to the latest version.