Google announced its new plan to run entirely on carbon-free energy by 2030, which is one of the most ambitious green pledges from tech companies yet. This will include powering all of the company's offices, campuses, and data centers for all products across Search, Maps, YouTube, and Gmail with only carbon-free electricity by 2030. This is quite a challenging task, so Google and Alphabet CEO Sundar Pichai called this decision "the biggest sustainability moonshot yet."
Google declared sustainability its core value. Since its launch 22 years ago, the tech giant has eliminated its entire carbon footprint by investing in high-quality carbon offsets. It became carbon-neutral in 2007. In 2017, Google was the first major company to match its energy use with 100% renewable energy.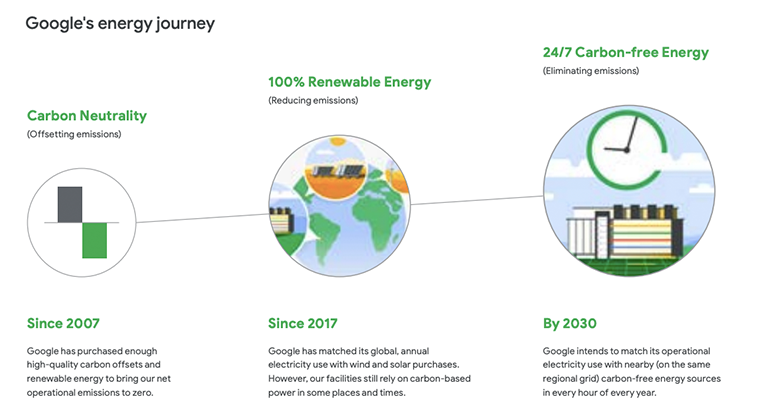 The company says that its commitment to switch to carbon-free electricity entirely will create over 20,000 clean energy jobs by 2035.
To commit to using only carbon-free energy, Google will need actually to develop new clean-energy sources. Besides, the company says it will help bring 5 GW of new carbon-free energy across "key manufacturing regions" to reduce carbon emissions of cities.
The tech giant's decision follows the historic fires raging in California, which has to do with climate change. The wildfires have already burned millions of acres across the Western US.
"We have until 2030 to chart a sustainable cause for our planet or face the worst consequences of climate change. We are already feeling those impacts today from historic wildfires in the US to devastating flooding in many parts of the world," Sundar Pichai said in a video announcing Google's new plan.

Google is not the only major company to work on reducing or eliminating their past carbon emissions. Previously, Microsoft has pledged to become carbon negative by 2030, and in July, Apple revealed its plan to become carbon-neutral by 2030 as well. Amazon aims at becoming carbon-neutral a bit later, in 2040.