One of the most popular social media platforms, Instagram announced the launching of the new feature that lets users collect donations in their profiles for personal causes. In its blog post, the company announced that the fundraising service for users' needs will be available in Great Britain, Ireland, and the United States. All donations will be powered by Facebook Pay.
The new feature will be available for users over 18 years old. Also, according to the rules, you can raise funds to support business, community projects, or help in case of an emergency. This fundraising tool is already available on Facebook, so now it's finally coming to Instagram.
To get started with the new feature, users will need to tap "Edit Profile" – "Add Fundraiser" – "Raise Money." Then a photo and the fundraiser category need to be selected, and users also need to provide further details and description to make the story more appealing and encourage donations. After approval, they will get an opportunity to raise funds for 30 days.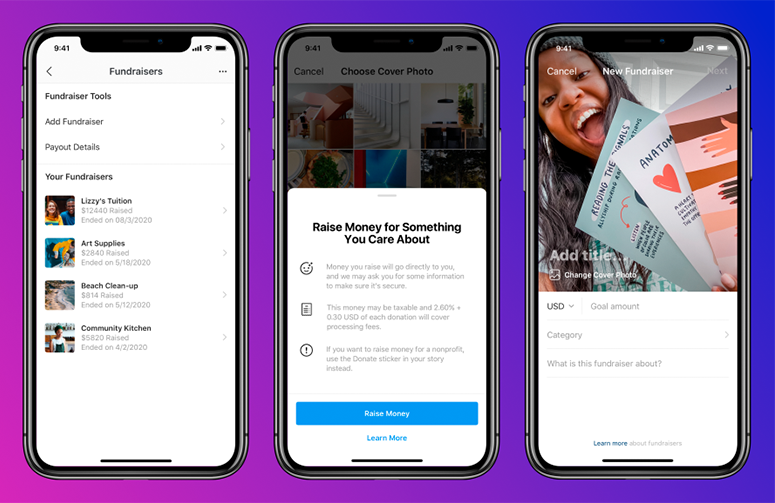 Users will have a choice whether to start a cause for fundraising or support an existing one. But first, all fundraisers need to be checked to make sure they meet the rules and guidelines, which include a list of supported fundraising categories as well as reasons why a fundraiser may not get approval.

Instagram explained the introduction of the new feature with an increase in demand for it. According to the data company analyzed, the volume of donations collected by Instagram and Facebook users has significantly increased since the coronavirus pandemic erupted, and protests in the US took place. Since January this year, both Facebook and Instagram users have raised nearly $100 million for COVID-19 initiatives and racial justice fundraisers.