Google announced the shutting down of the Google Play Music subscription service back in May, but now the exact dates have been named. Play Music will cease to exist by December this year, so all its users are invited to switch to the similar YouTube Music service and transfer their music there safely and easily.
In May, the search giant launched a migration tool for Google Play Music users to transfer their music libraries to YouTube Music quickly. It is available here.
Disabling the service will take place in several stages. The Google Play Music app will become unavailable for users from South Africa and New Zealand in September 2020, and in other regions, in October this year.
Google promises to retain users' uploads, purchases, playlists, and other data until December 2020 to leave them an opportunity to transfer all they need to another service. However, after that, Play Music libraries will no longer be available.

Google also warns that any collections that users do not transfer to the YouTube Music platform will no longer be fully available from 2021. The company asks its users to hurry with the transfer so that the purchased music is not irretrievably lost.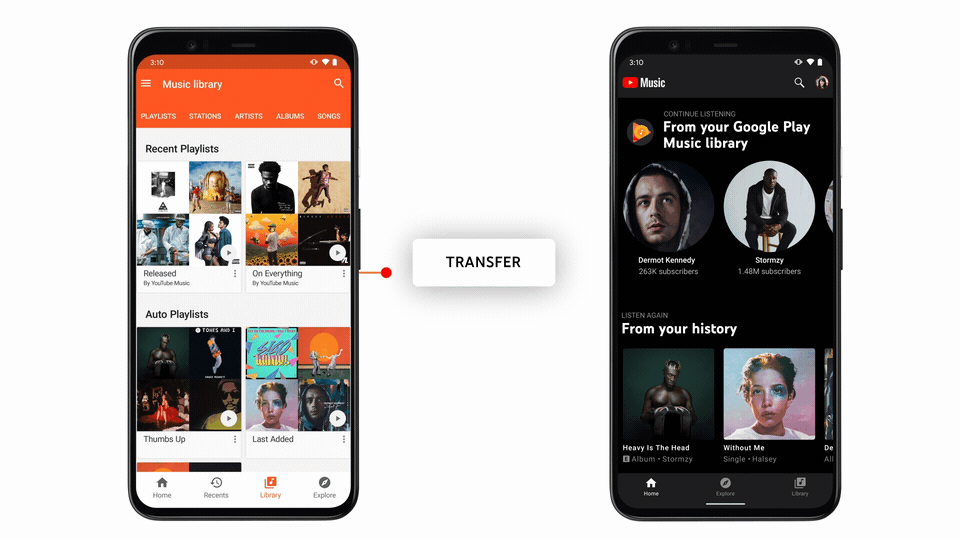 In addition, at the end of August, Google is going to remove all music collections from its app store, according to the company's press office, so Google will make changes to the Google Play store and Music Manager. Starting this month, users will not be able to purchase or pre-order music, or upload and download it from Play Music through Music Manager.
If users do not plan to switch to YouTube Music after Play Music shuts down, their subscriptions will be automatically canceled.
The YouTube Music Premium service now costs $9.99 per month in the USA. It provides offline and background playback and no ads.
How to transfer music from Google Play Music to YouTube Music:
Download the YouTube music app or go to music.youtube.com/transfer.
Tap the transfer button at the top of the screen in either Play Music or YouTube Music app, and all your data from one app will start moving to another.
Depending on how vast your library is, the transfer can take up to a few hours. You will get an email and a notification upon the completed transfer. That's it!