Facebook, Instagram, LinkedIn, and others are social media platforms that offer a unique place for communication. But the truth is that you need to be careful even on social media since many scammers live and prosper there. To help you identify social media scams and not get hooked by them, we invite you to explore the most popular types of online scams and how to detect them.
---
1. Lottery and free gift cards scam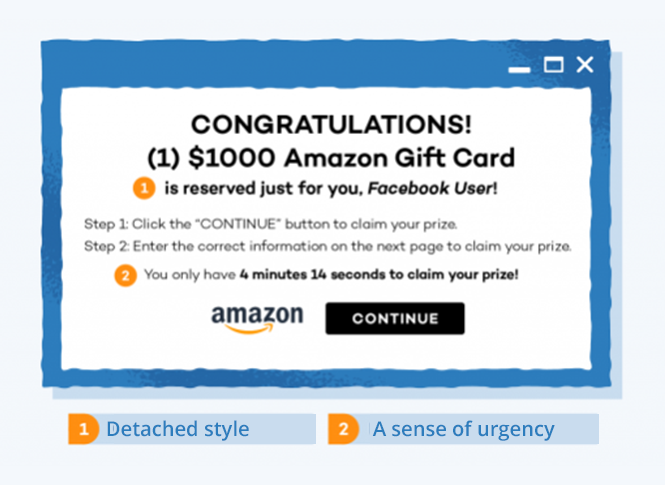 Social networking platforms are replete with messages and giveaways with free popular stores gift cards. Or, for instance, you may receive a notification that you won a great deal of money because your number or account was chosen at random. When you click on a link, you are taken to a site where you are asked to enter your personal information in order to receive your winnings. For example, you may be asked to provide your phone number (it can be used for fraud in the future).
In a lottery scam, you may be asked to provide your bank details for scammers to supposedly transfer money to you. In fact, you will be the only one who transfers money to someone in this case.
Why it works:
Scammers exploit people's desire to make money quickly and easily.
How to identify a lottery or free gift card scam:
It is important to understand that you cannot win a lottery in which you did not participate.
Do not provide anyone with your personal and banking information.
2. Gossip scam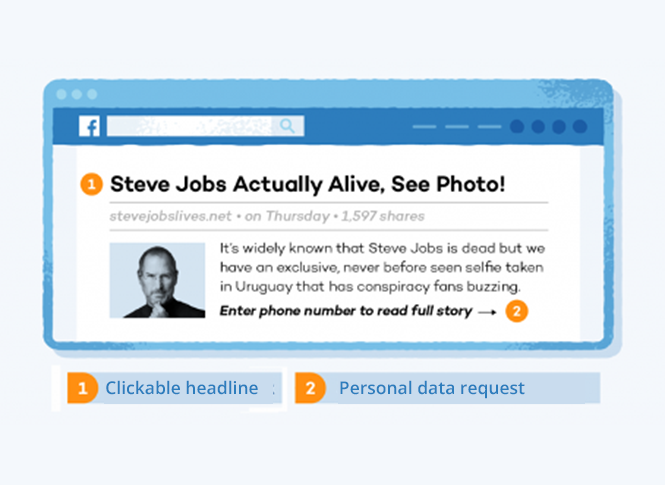 These are scams with sensational and loud messages like "The secret details of John Lennon's death!" This type of scam exploits people's curiosity about the lives of celebrities. You follow the link where you are asked to download the latest Adobe Flash version to view the information. But in reality, instead of downloading this program, you download a Trojan or other malware.
Why it works:
Scammers exploit people's curiosity.
How to identify and avoid a gossip scam:
Pay attention to the address (URL) where you go when you click on the link.
If you are asked to download the latest version of Adobe Flash, do it only on the official Adobe website.
3. Heath-related scam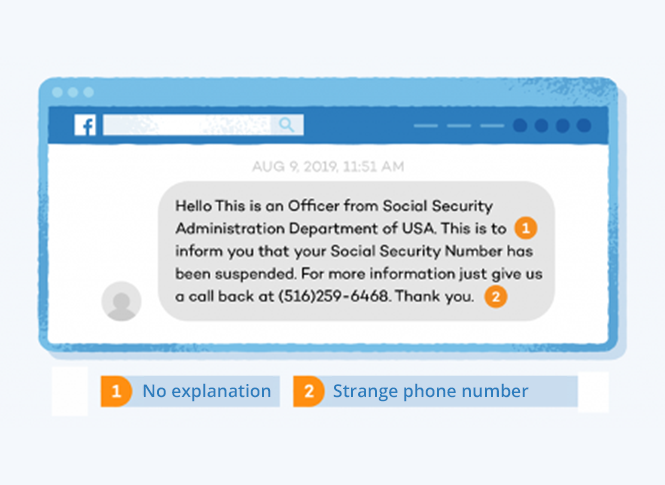 A popular form of this scam is advertising for medical care, drugs, or social security measures. The company offers services such as replacing a health insurance policy when changing a surname or, for example, replacing a lost policy with a new one. Such companies may impersonate well-known legitimate companies engaged in similar activities.
Why it works:
Scammers exploit people's health needs.
How to identify and avoid a health scam:
Call the appropriate government agency to clarify the conditions for the provision of these services.
4. Catfishing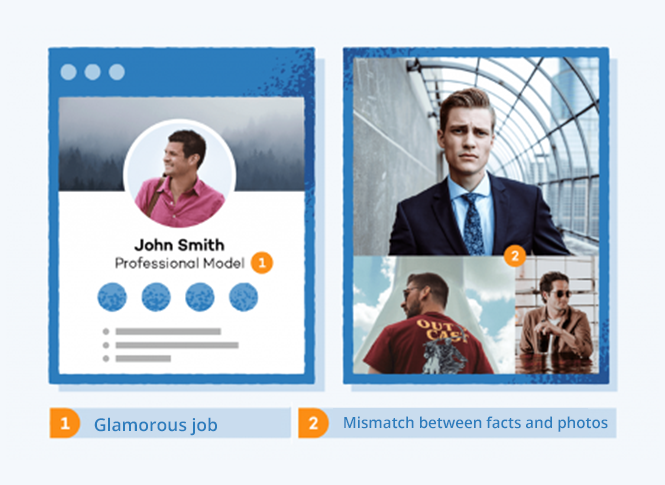 With the growing popularity of communication on social media platforms, there is an increase in the number of relationships that have arisen on the Internet. It is reported that one in five acquaintances begins online. By 2040, approximately 70% of people will meet their significant other online.
Catfishing is a type of scam in which a fraudster creates a fake identity on the Internet in order to build a "relationship." The fraudster then uses this relationship to gain trust in his victim and fraudulently obtain money from them.
Why it works:
Scammers exploit people's desire to love and be loved.
How to detect catfishing:
There are inconsistencies in the person's profile.
The person is in a hurry to build a relationship.
The person is in no hurry to meet you in person.
5. Scam with your photo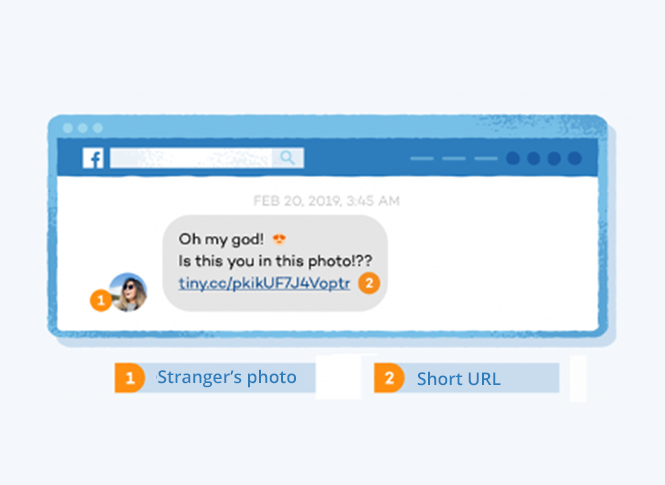 You can receive a message on Facebook or Twitter with the following text: "Is this you in this photo?" or "Does this blog tell the truth about you?" If you click on the link in such a message, you will see a very similar page to the social network you are using, where you are asked to log in. In this case, scammers gain access to your account.
Why it works:
Scammers exploit people's reputation issues.
How to detect and avoid such form of scam:
Don't click on suspicious links.
When logging into your account, check that the page address (URL) is correct.