In its latest blog post, Google announced that it is rolling out a new "about this result" feature that will help Search users find out more information about the search result snippet they are looking at as well as display a description of the website from Wikipedia. The feature will provide additional context about websites for users who look for information on Google Search, which can help detect misinformation.
"With this additional context, you can make a more informed decision about the sites you may want to visit and what results will be most useful for you," Google says in a blog post.
Users will need to tap on the three dots on the search result snippet's right top corner to see the new information boxes.
This is how the feature will look like: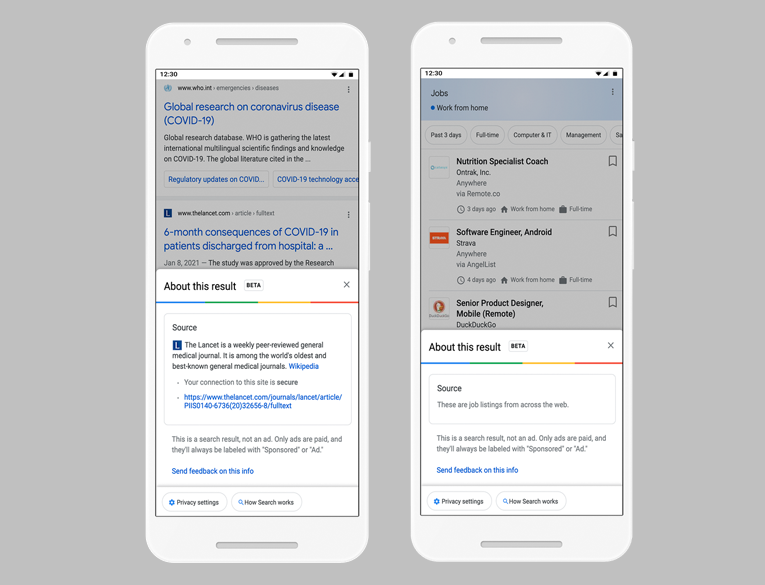 The new feature is designed to tell searchers more about where the information is coming from, helping them understand whether the website is reliable and can be trusted. Google will tell if the site is secure, if Wikipedia has any information on it, and whether the search result is paid for or not. Google chose data from Wikipedia because it is a trusted and verified source of information regularly updated by thousands of editors worldwide.
Google says the new feature can help Search users in case if "it's a site you haven't heard of before, that additional information can give you context or peace of mind, especially if you're looking for something important, like health or financial information."
If Wikipedia has no information on the website, Google will show additional context that may be available. For example, when the tech giant first indexed the site.
For now, the feature has the "Beta" label on it, but it has already been in testing for a while. The company will continue to improve this feature based on test results and user feedback.
The feature started to roll out on February 1, 2021, in English in the US search results on the web, mobile, desktop, and the Android Google app.