Caviar has presented a unique smartphone iPhone 12 Pro Limited Edition, completely dedicated to Elon Musk and his SpaceX project.
Even though iPhone 12 smartphones should be presented only in September, that does not prevent the Russian brand Caviar from launching an iPhone 12 concept phone. Caviar is famous for its exclusive limited-edition smartphones. The latest iPhones and Galaxy smartphones are often used as a basis, and the company often announces special editions of new products even before the announcement of basic versions.

The special edition of the iPhone 12 Pro Limited Edition received the Musk be on Mars inscription on the back panel, and the full name of Elon Reeve Musk and his signature mentioned below. On the back, there is a relief image of a SpaceX Dragon rocket launch.

What makes this iPhone 12 Pro concept smartphone truly special and unique is that Caviar has added a small piece of the real Dragon spacecraft to the back panel.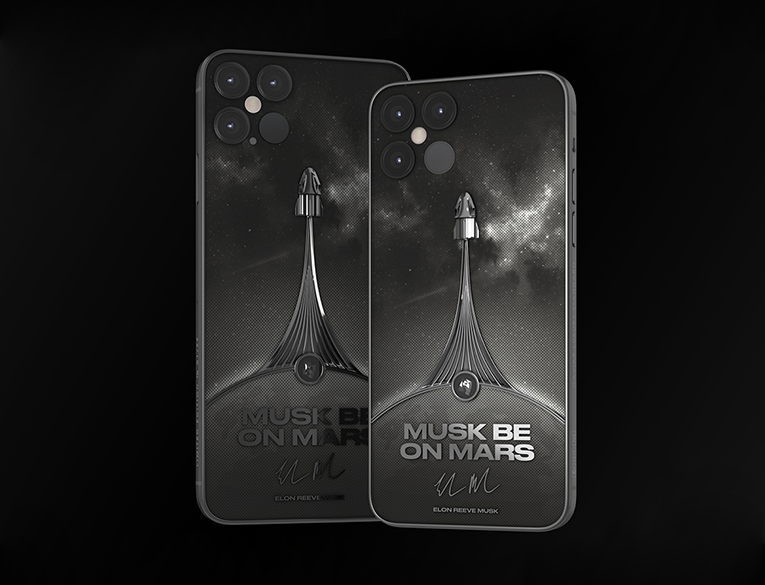 ---
"This is not just an accessory, this is a valuable artifact. Owning it, you become a member of a space shuttle crew, a piece of history, a hero who conquers the space," reads the official Caviar site.
---
The iPhone 12 Pro Limited Edition, Musk be on Mars, is made of titanium, and the relief image is applied with a laser engraving technique on metal. Each device will have a unique number. Caviar will release only 19 copies.
The luxurious iPhone 12 Pro Limited Edition, Musk be on Mars, will have a chic leather package. The start price for 128GB is $4,990, and the iPhone 12 Pro Max will start at $5,450.
Also, Caviar announced the themed Nike Air Force 1 sneakers with the price tag of $1,380, for those who dream of Mars.