On Tuesday, Samsung announced the launch date of its new folding smartphone Samsung Galaxy Z Fold 2. The novelty follows the Galaxy Fold and Galaxy Z Flip models and is slated to launch on September 18 this year for $1,999. The preorders have already started on September 2, with the shipping beginning on September 18.
The Galaxy Z Fold 2 features a 6.2-inch screen with an Ultra Thin Glass (UTG) and opens up into a tablet with a 7.6-inch screen. Its refresh rate is up to 120Hz. The new device uses a redesigned hinge that aims to help avoid malfunction caused by debris that used to get under the screen of the original Galaxy Z Fold model. Therefore, now there are new elastic "sweeper" brushes that keep dirt from getting into the hinge mechanism. Here's how the company described this technology:
To achieve this, Samsung developed new innovative sweeper technology to achieve the same level of protection in a smaller space. The Galaxy Z Fold 2 Hideaway Hinge features revolutionary slim cutting technology, modified fiber composition and adjusted fiber density.
The new Galaxy Z Fold 2 also has 5G support, Qualcomm's latest Snapdragon 865+ processor, supports wireless charging, reverse wireless charging, and fast charging. An array of wide, ultrawide, and telephoto cameras on the back allows for making zoom and wide-angle photos. The phone features a 4,500 mAh battery, 12GB of RAM and 256GB of storage, which is the only memory and storage option.
The foldable smartphone will also allow users to multitask and open three selected apps at the same time, having them run next to each other in small windows on the main screen. The Flex Mode, which reconfigures the screen, will allow you to view pics while also taking them by propping the phone halfway open.

Samsung Galaxy Z Fold 2 will come in bronze and black, while customers will also have the option of choosing a color accent of the hinge.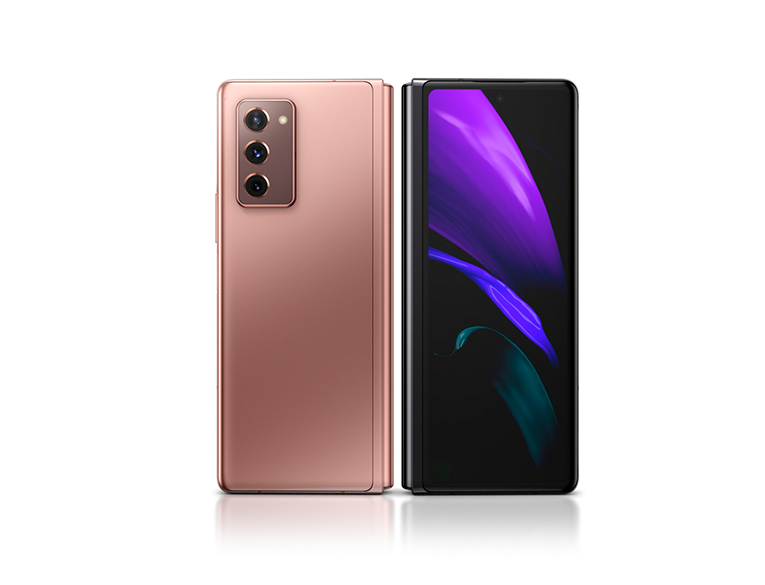 The Galaxy Z Fold 2 will also come with the Z Premier Service, which includes on-demand support, one-time replacement of the screen, Founders Card membership, and a dinner at a Michelin-star restaurant.
Samsung also announced that the model will have a Thom Browne bundle, including a Galaxy Watch 3 and Galaxy Buds Live.
It features Browne's signature mix of color stripes inspired by the US on the gray backdrop. The Thom Browne phone edition will probably cost even more than the standard model.
In general, Samsung is planning to primarily focus on 5G and foldable displays in its future phones that could be forward-looking products that shape the future of everyday and standard technology.