CD Projekt RED decided to postpone the Night City Wire online presentation for two weeks. During the presentation, the developers had to show the gameplay of the cyberpunk action RPG Cyberpunk 2077 and arrange the first acquaintance with the much-anticipated project for journalists. The online press conference of Night City Wire was originally planned for June 11, but it is now delayed to June 25.
Cyberpunk 2077 announced the postponement of this event on Twitter yesterday.
It is not the first presentation that was canceled due to ongoing mass protests in the United States. They started on May 25 due to the death of George Floyd, a 46-year-old black man who was killed after a white police officer knelt on his neck for over eight minutes. Even though police officer Derek Chauvin, who is suspected of killing Floyd during his arrest, has already been arrested and faces up to 25 years in prison, people continue to carry out pogroms.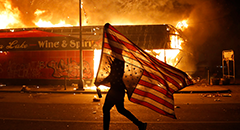 Earlier, several companies made a similar decision: Google postponed the presentation of Android 11, Electronic Arts canceled the launch of Madden NFL 21, Sony postponed the presentation of games for the PlayStation 5 console, and Activision postponed the launch of the fourth season of Call of Duty: Modern Warfare.
However, the release date of Cyberpunk 2077 hasn't changed and is still scheduled for September 17 this year.