In a blogpost yesterday, popular social media platform TikTok announced a bunch of new support initiatives and features dedicated to National Eating Disorders Awareness Week.
This week (February 22-28, 2021) is National Eating Disorders Week, which aims to raise awareness about eating disorders and educate the public on the need for assistance and support for people who need it.
Around 1 in 7 people will experience an eating disorder in their life, whether it's food avoidance or more serious cases, and social media can play a big role in this by exposing people to certain body images and promoting comparison. That is why this is so crucial for social networks like TikTok to draw attention to such issues and provide helpful resources for people in need.
TikTok teamed up with National Eating Disorder Association (NEDA) to encourage body inclusivity and provide support and recourses to people who are affected by eating disorders. The social media platform added two new features that will appear in relevant search queries together with new advice and tips from expert organizations for people who experience body image or eating disorders issues.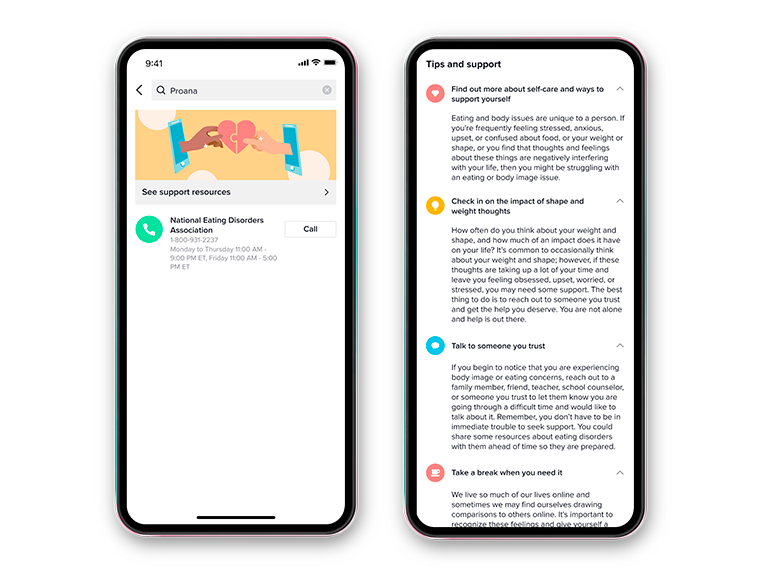 Firstly, if a user searches for terms like "eating disorder," "proana" (pro-anorexia), or "edrecovery" (eating disorder recovery) on TikTok, they will be shown support resources and the contact details of NEDA. TikTok will offer users advice developed in partnership with experts on eating disorders and explain how to identify negative self-talk or support a friend struggling with an eating disorder.
Secondly, TikTok will also put public service announcements on hashtags that could potentially feature triggering content, like the pages for #whatieatinaday or #bingerecovery. The PSAs will include NEDA's contact details.
During National Eating Disorders Awareness Week, the Discover page of TikTok will also explain the theme for this year's edition called Every Body Has a Seat at the Table.
"All week our community can join the conversation on issues related to food, exercise, and body image; how to challenge systemic biases and reflect on personal journeys using #NEDAwareness. From our Discover page, people can learn more about this year's #NEDAwareness theme – Every Body Has a Seat at the Table – as well as warning signs and symptoms of an eating disorder," reads the blog post.
TikTok promises to continue working on such crucial topics all the time. For instance, the company will refine its policy against content that promotes or glorifies eating disorders and work on the ability to quickly remove harmful content on the platform.