Italian fashion house Gucci has released its first digital sneakers. You can buy and try them on dedicated apps. This is a collaboration with the Belarusian company Wanna, which creates applications using augmented reality for the virtual fitting of clothes, shoes, and watches. Wanna has also previously teamed up with Puma, Snapchat, and Reebok.
To put on these sneakers, you need to go to the Gucci or Wanna Kicks mobile app, and then select and buy them. A pair of virtual sneakers can be purchased on the Gucci mobile app for $11.99, and on the Wanna Kicks app, a pair will cost $8.99. The apps' algorithms will determine the location of the feet in the frame and superimpose digital sneakers onto them. The physical copy will not go on sale. This is the virtual-only line of kicks.
Wanna has already digitized the high-end retailer's sneaker catalog – the conversion from a virtual fitting room in real-time has exceeded 25%. As part of a new collaboration, the Virtual 25 sneakers were released in bright green with pink and blue details. The new model's design was developed by Gucci's creative director Alessandro Michele, and it was embodied in the form of a 3D model using augmented reality tools.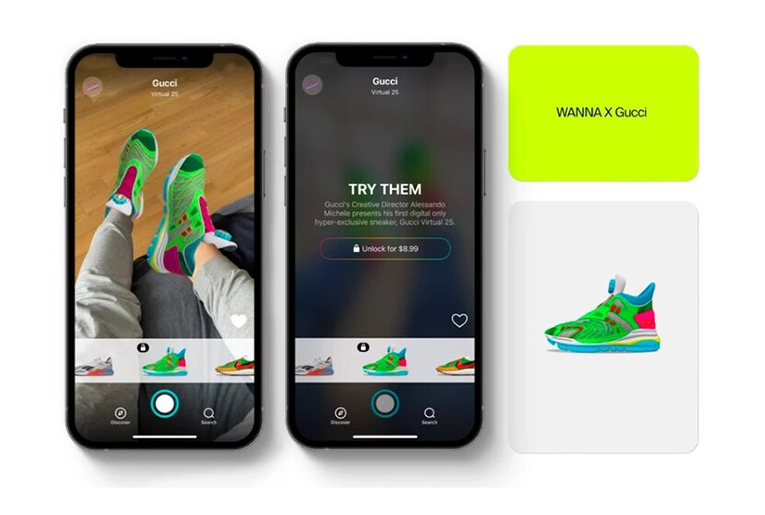 Wanna co-founder and CEO Sergey Arkhangelskiy said he is sure the digital fashion market would grow. He believes that augmented reality technologies will continue to be integrated into online stores for brands and retailers.
"In five or maybe 10 years, a fairly large proportion of the revenue for fashion brands will come from digital products. Our goal as a company is to actually replace product photography with something more attractive and closer to offline shopping," he commented.
The project's main point is not creating a virtual product itself, but making virtual fitting of shoes convenient. The developer explains that the project's goals were to attract a generation Z audience and, in general, new customers. Also, the application should help promote new collections.
Gucci has long focused on the gamification of its products, partnering with gaming platform Roblox, fashion game Drest, as well as creating digital clothing for Sims 4 and even Pokémon Go. Thus, the range of applications for digital shopping expands from photography for social media to exporting to third-party applications such as Roblox or VRChat to customize your avatar.