Nvidia has prepared new high-performance graphics cards for the release, which are designed for use in the flagship models of gaming laptops.
Nvidia GeForce RTX 2070 SUPER and GeForce RTX 2080 SUPER, as well as their modifications Max-Q, will be available for manufacturers of laptops.
The announced innovations contain GPUs based on the Nvidia Turing architecture and include RT cores for hardware processing of ray tracing. The manufacturer also implemented Dynamic Boost technology in the new video cards, which automatically redistributes the load frame by frame between the processor and the GPU, increasing overall gaming performance without increasing the overall system power consumption.
Besides, the new graphics cards support Advanced Optimus, an improved version of the technology for switching between discrete and integrated GPUs. Finally, Deep Learning Super Sampling 2.0 was made – an improved neural network of deep learning DLSS 2.0 increases the frame rate of graphics, creating beautiful and clear images in games.
The RTX SUPER Series graphics cards feature powerful and energy-efficient GDDR6 memory. Nvidia has actively collaborated with partners to "increase memory efficiency while improving performance with low voltage GDDR6 memory".
Also, Nvidia has updated the power management system for the new SUPER series, but no additional information has been reported. Detailed specifications of the new Nvidia GeForce RTX 2070 SUPER and GeForce RTX 2080 SUPER video cards for laptops are presented in the following comparative table.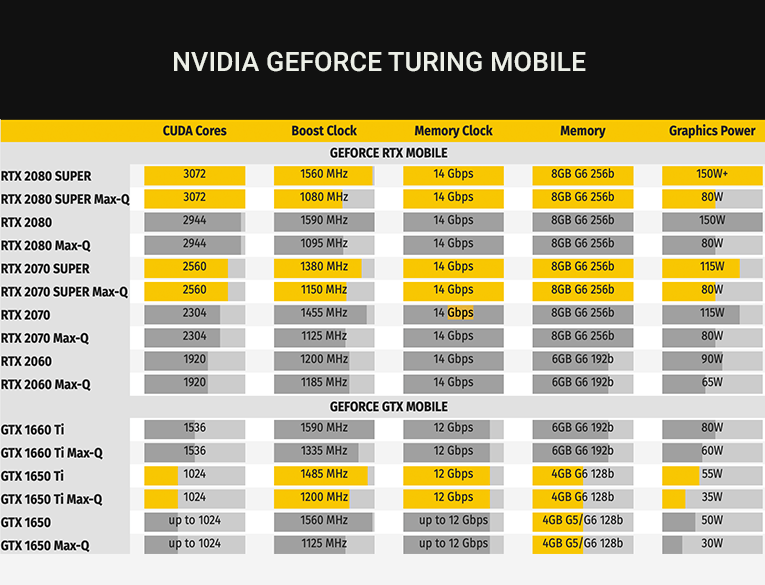 Ready-made laptops from Nvidia partners with new graphics cards will begin to hit the market on April 15th. In May, the list of proposals will be increased. In total, more than 100 new laptop models with SUPER series video cards will be available for sale. Features, configurations, and prices may vary by region and partner. The range of laptops will include models from Acer, ASUS, Dell, Gigabyte, HP, Lenovo, MSI, and others.