It doesn't matter how old you are because it's never too late to dive back into your childhood and feel as a part of a fairy tale.
We highly recommend you three particular destinations: Lapland is a perfect choice for a family vacation, Prague would be great for a getaway with friends, and Paris is a lovely place for a romantic trip with just a two of you.
---
Lapland, Finland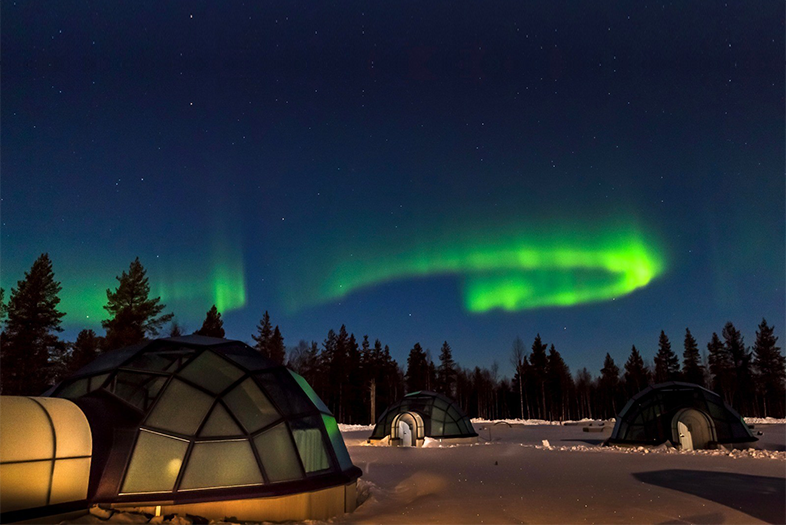 This vacation will cost quite a bit, but it is totally worth it! Especially if you are planning a trip with a child. Give your kiddo a real fairy tale.
Prepare yourself for the winter cold, though. At this time of year, the temperature reaches 10 degrees below zero.
You can stay at Arctic TreeHouse Hotel, which is a bunch of lovely cottages with spectacular views, visit the Lapland SnowVillage hotel that is furnished with pieces made of ice, or spend polar nights in a glass igloo to certainly see the northern lights. There is a variety of such hotels in Lapland that fit everyone's taste and budget. Finland's coastline is the largest archipelago in the world. And where there are islands, there are lighthouses. The majestic Bengtskär Lighthouse situated on the west coast is the tallest lighthouse in Scandinavia. Visitors can climb up it and drink a cup of coffee in a lightkeeper's cabin.
The best way to enjoy the snow-white expanses is to go on a reindeer or a husky sleigh ride. You know that Rudolph the Red-Nosed Reindeer is Santa Claus's favorite means of transport, right? Everybody knows that Finland is the homeland of the one and only Santa Claus. However, a few people know that it's not necessary to wait until Christmas to meet the legendary figure. Santa Claus's residence is a village located at the Arctic Circle in Lapland, and it is open to visitors all year round.
Another activity you can try is warming up in a sauna and plunging into the lake. There are more than three million saunas and over 188 thousand of lakes in Finland. Visiting sauna once a week in Finns' favorite pastime.
You can also go skiing and enjoy the northern light and midnight sun above you. Imagine the delight of skiing in the midnight sun in the summer or in the winter haze illuminated by the flashes of the northern lights.
Prague, the Czech Republic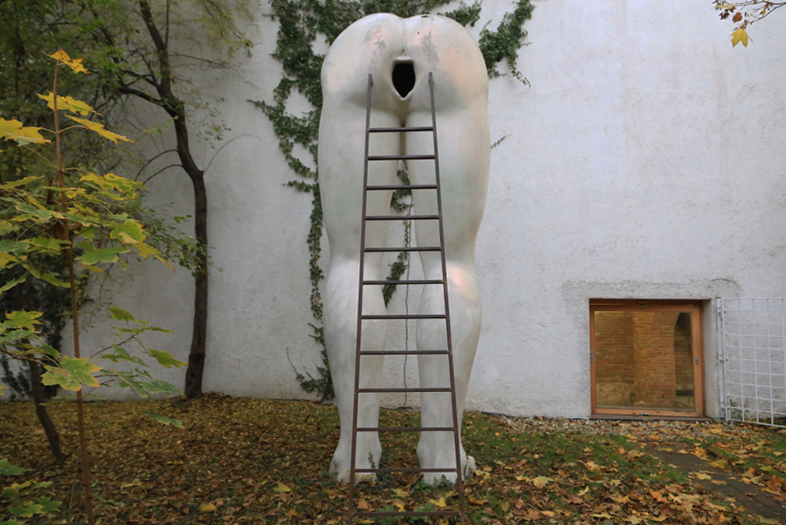 During the Christmas holidays, Prague takes on an absolutely magical look. It seems like every square meter of the city is decorated with bright garlands, and you feel like you can endlessly walk these streets.
You should definitely arrange a gastronomic tour with your friends and try local Christmas dishes. During the cold season, hot mulled wine or punch are served at every turn, so there's no chance you will freeze or catch a cold.
Unlike Finland, the Czech Republic is an ideal country to visit on a budget, so going here with some friends is the best option. As for accommodation, there are plenty of hotels here, so you can choose either pretty modern ones like Dancing House Hotel and The Emblem Hotel (for those who prefer their bath right in the middle of the room) or hotels with a vintage interior.
Entertainment-wise, there is a great deal of different museums here including the Sex Machines Museum that hosts screenings of old erotic films. Only adult visitors can see the exhibition. If you thought that Germany was dissolute, you were wrong. You will not find so many various sex parties anywhere else.
It is in Prague where you can literally get inside an asshole because there's a statue that represents adulation. It is called Brownnosers – an avant-garde exhibit that can be found in the back garden of the Futura art museum.
If you wonder what beverage the Czech Republic is associated with, then the first thing that comes to mind is, of course, beer! Coming to Prague is like getting to Oktoberfest, except that it's around-the-clock and a year-round one. Apart from beer, a bar with more than 20 types of absinthe can be found here. Stop by the Absinthe Time bar! There are dozens of absinthe types with different amounts of thujone from 10 mg to 100 mg (this type of absinth is sold in this bar solely). Furthermore, you can treat yourself to all sorts of cocktails, which, of course, also include absinthe.
Prague is a city where there's something for everyone. Once you get tired of contemplating magnificent buildings, museums and of shopping, simply put on some comfortable shoes and go for a walk. We promise you will find lots of exciting things that are not mentioned in any guidebook.
Paris, France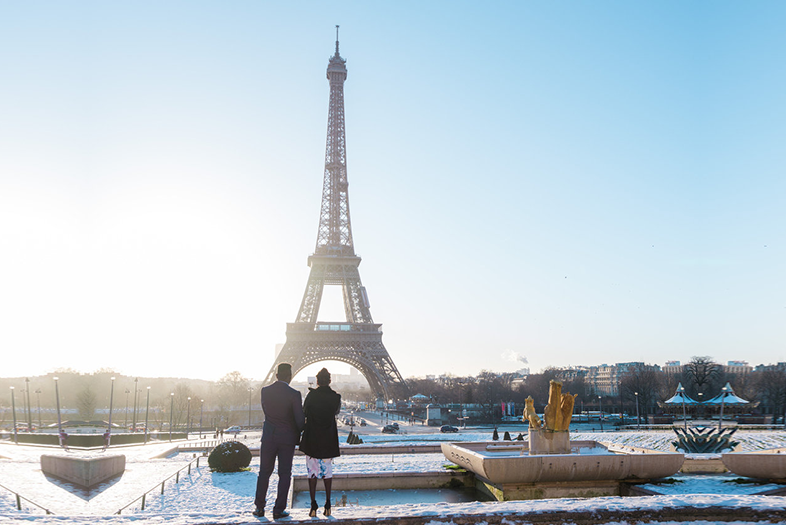 Erich Maria Remarque used to say that Paris is the only city in the world where you can have a great time even while essentially doing nothing. Even more so, if you're a couple in love, you can walk around the beautiful Paris all day long.
You can stay at the cozy-bohemian Hôtel Raphael or at Le Damantin Hôtel & Spa, which is a little more modern hotel, but both of them are with a view of Eiffel Tower. Be sure to choose a hotel with a view of the tower. Your other half will definitely want to take a standard morning photo.
At dawn, when Paris is still asleep, you have a chance to take a cruise on the Seine and have a romantic breakfast at the same time. Finding lovely ways to start the day is easy – уou only need to drink coffee with traditional croissants.
There's also a Champs-Elysées Christmas market in Paris. Wooden chalets offer a variety of souvenirs, toys, jewelry, and, of course, treats. Don't miss the chance to try the exquisite foie gras, enjoy delicious signature sweets, and keep yourself warm with aromatic hot mulled wine. In the evening, climb the stairs of the Eiffel Tower and admire the fantastic view of Paris at night.
Have you seen Belphegor, Phantom of the Louvre? Do you want to go where it was filmed with famous or even your favorite actors? Where the ghosts used to fly, and the mummies used to move? Then the Louvre – one of the most historical museums in the world – is what you need.
And don't rush to cover everything, savor every moment as long as it lasts with your favorite person in the most romantic city in the world.
Remember the most important thing, though: it's not where you spend Christmas, it's who you spend it with.