Google's dinosaur browser game, a treasured Easter egg that appears in Google Chrome when you try to visit a website with no Internet connection, received a ridiculous, a bit violent, and yet fun and creative update. The infinite runner now includes all sorts of weapons, including swords, battle axes, portal guns, tanks, bows, arrows, guns, and sledgehammers.
The upgraded version of the T-Rex Game is called Dino Swords, and the goal of the game is, as always, to survive for as long as possible or until the moment the Internet starts working again. Dino Swords was developed by a partnership between MSCHF, a company that has created many absurd and viral projects on the Internet, and 100 Thieves, a lifestyle brand and gaming organization from Los Angeles.

"Dino Swords is our take on the classic Chrome dinosaur runner game, made extravagant with 26 weapons to help your runs. Many of them pay homage to classic video game weapons, some of them are totally OP, and some are completely useless. There's even a few easter eggs that are pretty hard to unlock," said Matthew "Nadeshot" Haag, the owner and CEO of 100 Thieves.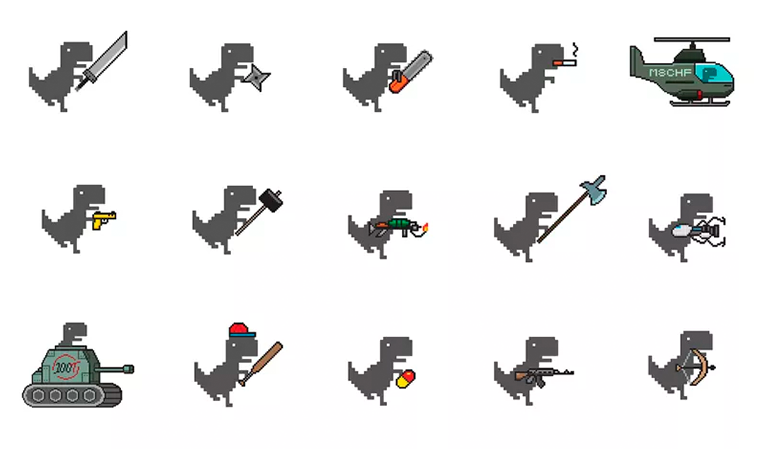 The presented arsenal of weapons is supposed to help the dino to chop down the cacti and birds on its way, as well as burn, sandal-toss, and knock them down.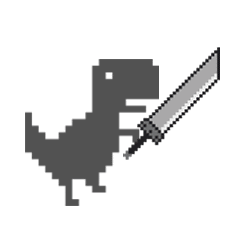 Every weapon is hot keyed to a different letter on a keyboard, but general game controls are the same. For example, you can use the "G" key to use "Holy Water." To unlock different weapons, you need to grab the small birds that fly over.
Dino Swords keeps score that lands on a global leader board. It was announced that the top 10 high scores of the week will receive exclusive gift packages, although it is unknown what they will consist of.
Other projects by the MSCHF agency also include Jesus Shoes, a pirate radio that streamed HBO, Hulu, and Netflix for free, a live remake of The Office in Slack, and others.