Facebook-owned WhatsApp Messenger introduced a new search feature to help combat misinformation on the platform, the company stated in a recent blog post. The feature was first noticed in the beta version of the Android app in March when it was apparently being tested.
The Search the Web feature basically allows users to fact-check forwarded messages via Google Search. The search icon, which looks like a magnifying glass, will now appear next to the messages that have been forwarded five or more times, and will help users search for the contents of the message on the web to see if the information is accurate.
The feature works by allowing users to upload messages directly via their browser. As the company noted, WhatsApp is not able to ever the message itself.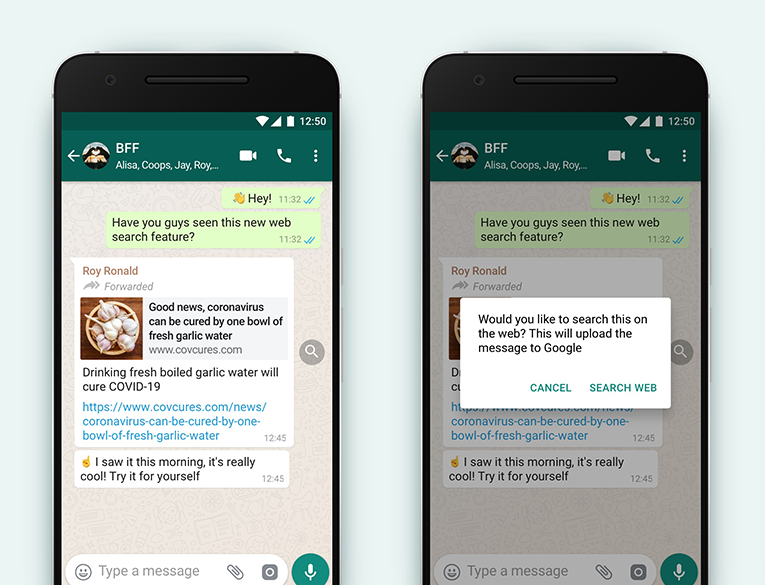 The Search the Web feature is now available to users in Brazil, Italy, Ireland, Mexico, Spain, UK, and the USA, if they use the latest version of WhatsApp for Android and iOS and WhatsApp Web.

Introducing the opportunity for users to check whether the received information is accurate is not the only step the messenger has taken to limit the spread of viral and misinformation messages.
In April, the instant messaging platform set limits on how a message could be shared, which aimed at limiting the spread of false information related to the COVID-19 pandemic. Apart from that, WhatsApp marks forwarded messages that were not composed by your close contacts with two arrows.
At the beginning of the pandemic, WhatsApp also partnered with the WHO and launched a chatbot with up-to-date and reliable information on the COVID-19 disease.