The popular social network Twitter has launched Birdwatch, a new fact-checking forum that will help users fight misinformation on Twitter, the company announced in a blog post.
The project is designed to address misinformation on Twitter, let users fact-check tweets, add notes with helpful information to them, and explain why they consider certain tweets misleading.
For now, only a limited number of US users, which is about 1,000 people, can add context notes to tweets and participate in the pilot. However, these comments will not be publicly visible on Twitter for some time, but you can view them on the Birdwatch website. Pilot participants can also rate notes added by other users. Users can flag tweets right from a dropdown menu on Twitter, but discussions about their veracity will remain in the Birdwatch section for now.
In the future, the company plans to work out the details of how the program will be implemented. Birdwatch is likely to expand Twitter's ability to find and combat misinformation. The platform will also reduce the company's role in determining which information is reliable and which is not.
Twitter says that creating a community of "Birdwatchers" who can help moderate misleading content is crucial as it lets users, not a simple majority or "any singular institution," share their views on what is true and what isn't while providing useful context.
Here's an example of what a tweet with a note can look like: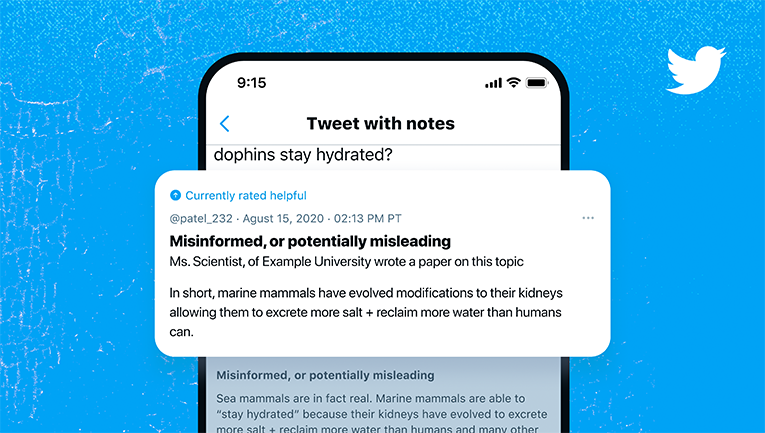 "We believe this approach has the potential to respond quickly when misleading information spreads, adding context that people trust and find valuable. Eventually we aim to make notes visible directly on Tweets for the global Twitter audience, when there is consensus from a broad and diverse set of contributors," reads Twitter's blog post.
Twitter started developing Birdwatch last year. All the Birdwatch contributed data will be available for download as TSV files, and Twitter will later make the algorithms that power it public. The initial ranking system can be found on the GitHub page of Twitter.
"We know this might be messy and have problems at times, but we believe this is a model worth trying," says Keith Coleman, Twitter Vice President of Product.
To participate in Birdwatch, you can apply here.
Like other social media platforms, Twitter is under pressure to combat misinformation, especially about the coronavirus pandemic and the 2020 presidential election. The social network already labels or removes misleading tweets depending on how harmful they are. Last year, it also introduced labels for tweets containing synthetic or manipulated media.