Pretty much every big tech or social media company is now developing an analog of Clubhouse, an audio chatting platform that experienced a sudden burst in popularity this year. And now it's the turn of LinkedIn, a business social network for finding and establishing business contacts, which has already started developing a platform with voice chats.
The company has already officially confirmed that it is creating a voice communication feature. LinkedIn is currently testing ideas on how to add voice chats to events and groups sections to give users even more opportunities for communication.
According to LinkedIn representatives, the development of the voice communication feature is not related to the popularity of Clubhouse. It was users of the social network who asked to add the audio chat feature to the platform.

In addition, LinkedIn announced that beta testing of the voice communication feature would begin soon. Some of the features are borrowed from Clubhouse. For example, LinkedIn also has a separate centered field for speakers, and all the listeners of the voice chat will be displayed below.
The main distinguishing feature of LinkedIn's audio chats is that they will be associated primarily with the users' professional identity, not just with their social profile.
Here is a mockup of what the future LinkedIn voice chat user interface might look like, which the platform has shared with TechCrunch.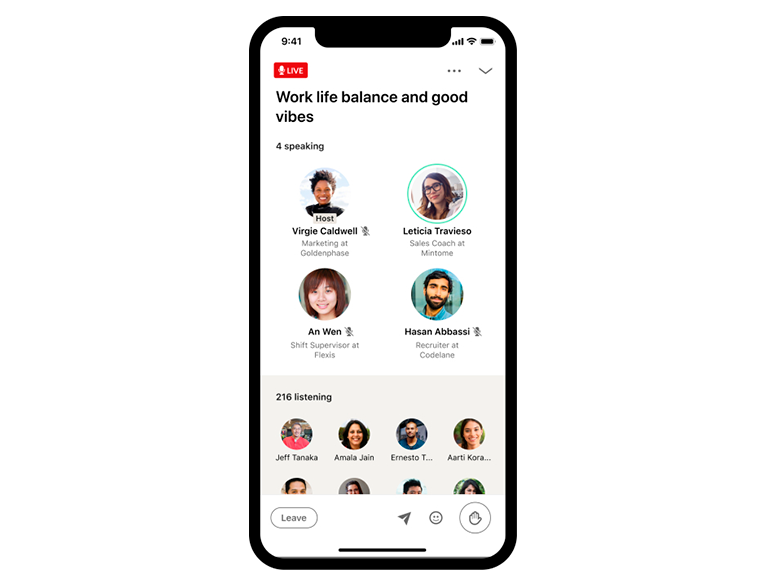 "We're doing some early tests to create a unique audio experience connected to your professional identity. And, we're looking at how we can bring audio to other parts of LinkedIn such as events and groups, to give our members even more ways to connect to their community," the platform said in a statement.
Spotify has recently announced its own voice chat service as well. On March 30, the company announced the purchase of Betty Labs, the Locker Room app developer, which is a competitor to Clubhouse. Spotify clarified that it made the purchase primarily to launch audio chats within the service.
In recent months, several social media platforms have announced the development or improvement of their own audio-based features.
At the beginning of March 2021, TikTok owner ByteDance began developing an analog of Clubhouse specifically for users from China who were blocked by the country's authorities from accessing Clubhouse. The project is at an early stage. In December 2020, Twitter began testing the Spaces audio platform for some iOS users, and in March 2021, for Android users. In March 2021, Telegram expanded voice chats' features, which were introduced in the messenger in December 2020.

Clubhouse was launched in March 2020, but the application began to gain popularity only in early 2021, when Tesla and SpaceX founder Elon Musk, Facebook head Mark Zuckerberg, and other media personalities spoke on the platform.
However, Clubhouse's App Store download rating plummeted in March after other platforms began rolling out similar audio-communication apps.