Every week, our editorial team dugs up the funniest and the most ridiculous bits of news and prepares a compilation of life stories and situations, chucklesome videos, amusing texts, memes, and a variety of jokes and wisecracks to make you grin from ear to ear. Reading our selection of Weekly Fun stuff without a doubt equals having a whale of a time.
---
O tempora, o mores! A robotic mouth recites prayers generated by artificial intelligence
The German artist Diemut Strebe came up with this installation and brought it to life. The presented art-installation is called The Prayer, and it recites prayers generated by artificial intelligence.
To make the concept of the prayer mouth a reality, the creator collected religious texts to train a special algorithm with. When the self-learning system began to make progress by composing prayers on its own, it was connected to the software for converting text into speech. Then the system was equipped with a speaker, a silicone mouth, and a silicone nose that move in time to the prayers.
Preachers can sleep peacefully – The Prayer cannot replace them because its "brain" is full of mush, and all prayers get mixed into gibberish. The truth is that The Prayer makes us think about one important thing: will artificial intelligence develop to such an extent that it can achieve one of the most unique human experiences – the so-called "divine insight"?
Lock, Stock, and Two Rolls of Toilet Paper
– I have four aces!
– Me too!
Adriano Celentano, the Bluff movie
Two months ago, toilet paper was a basic necessity, but now it is flying off the store shelves at the speed of lights. Londoners have solved this problem in the best traditions of the Bluff movie. In order to replenish the supply of this paper gold, you need to be good at poker, have a poker face, and go to the Eltham Terrace Club. To find out how the game goes, watch the video:
What a video conference would look like in real life: dedicated to our beloved colleagues
The words "remote work" and "self-isolation" clearly became the main words of March 2020. Because of all the things happening now, the 2014 sketch called A Conference Call in Real Life is experiencing the second wave of popularity. It has it all: suddenly appearing and disappearing participants, a colleague who is terrible at technology, extraneous sounds, and a ton of other stuff that always happens when you have to communicate this way.
DIY home treadmill. Don't try this at home – just watch
Somewhere deep inside, we all know that because of that remote work during the quarantine, we need to carefully track our activities and manage our meals, or otherwise, we run the risk of getting stuck in a doorway and calling emergency services to save us. The video contains a list of "ingredients" for making a home treadmill: some oil, a bit of water, and a willingness to slip. We recommend that you watch this fun video and lose calories from laughter rather than from trying this at home because it is not worth it at all.
There's now a particular word for those who like stocking up on toilet paper (yes, it's not an obscene word)
The coronavirus pandemic made sane and not-so-sane people around the world rush into stores and buy essential goods in large quantities. There were plenty of words to describe people buying tons of toilet paper, but now there's a special word for such scaremongers that was published by Urban Dictionary. Pay attention to usage examples.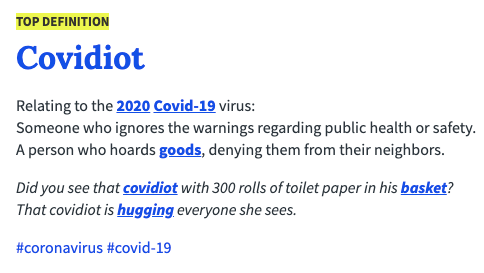 Having ordered takeaway food in a restaurant, clients receive a compliment of the chef – a roll of toilet paper
Recently, toilet paper has become the most desired item for ordinary people. Some are trying to win it at poker, while some are stealing it in stores, unafraid of becoming cursed.
All the residents of Cambridge, Minnesota need to do to get some toilet paper is to come to the local restaurant The Cambridge Bar and Grill and order takeaway food worth at least $25 – in this case, they get a roll of toilet paper for free. It's hard not to laugh when you get vital toilet paper with your food.
An Instagram account of dogs working from home
Account owners offer users to send them funny photos of dogs that "work" from home with their owners. Account owners don't even need to bother – users make content for them. This is an ideal business model. In just a week, @dogsworkingfromhome hit more than 50 thousand Instagram followers. We've chosen the most hilarious dog pics for you:
New Twitter trend: users talk about their animals as if they were their colleagues
There are many obstacles to productive work at home: games and TV shows, children and spouses, and even pets. It was the latter "obstacle" that one Twitter user decided to discuss.
This tweet went viral: a lot of other people wanted to talk about the behavior of their "colleagues." Some of them shouted at the mirror, some attacked their owners or simply slept in the workplace all the time. Some even promised to inform the HR department about the violation of the working schedule.