Every week, our editorial team dugs up the funniest and the most ridiculous bits of news and prepares a compilation of life stories and situations, chucklesome videos, amusing texts, memes, and a variety of jokes and wisecracks to make you grin from ear to ear. Reading our selection of Weekly Fun stuff without a doubt equals having a whale of a time.
---
Nuts investments are the future! An opinion of the leading squirrel analyst and practitioner
The heroes of these videos are Wally, a squirrel, and Jax, a Bernese Mountain dog. Wally has a hilarious peculiarity: he likes hiding nuts, acorns, and other snacks in Jax's thickest fur. And he does this quite regularly, so the owners of Jax and Wally collected enough video material for a whole YouTube channel.
Ninja fighting finger style
This video is scary, exciting, and funny at the same time. It is scary because people touch each other's hands without gloves in it. But you need to see for yourself to find out why it's exciting. We can only add that this video features a fascinating battle setting, great costumes, and masterpiece dialogs.
A smart speaker with blackjack and hookers (spoiler alerts: you won't be able to bite this speaker's shiny ass)
This smart speaker with a voice assistant cannot replace Siri because it won't answer whether it is going to rain. However, it does have a bright sense of humor and healthy cynicism. The speaker has the "brain" of Futurama's Bender himself as well as his voice and appearance.
The idea belongs to the Reddit user called Zen_Kong. This device was printed using several 3D printers, and in his head, there is a Raspberry Pi Zero W microcomputer, which runs Pocketsphinx speech recognition software. The Python code written by the author of the speaker (available on GitHub) is responsible for processing questions and generating answers. The speaker can talk to you with Bender's signature phrases, it may joke and be rude. It has one drawback, though. The device works autonomously, so it will not be able to find answers on the Internet. On the other hand, you don't need to worry about privacy and data protection.

That's the last time I help my mum do a TikTok
Unknown forces intervened in the shooting of this video, which turned out even better than expected. Well, at least, funnier. The video was posted on Twitter by a user named @nathwhiteee. It went viral and got a little more than 7 million views!
So, this is what happens in the video. A woman in a mask of Elizabeth II jumps out from behind the bushes. She begins to dance to lively music, when suddenly a delivery gut comes out from behind the same bushes. Despite being embarrassed about what he saw, he mumbles something inarticulate in plain English and slips to the house with a package. The "Queen" is puzzled. It's better to see it a hundred times than read our retelling once. This video will make your day!
Netflix trolled the Eurovision Song Contest
The Volcan Man music video was posted on Netflix UK & Ireland channel. This is a parody of the classic Eurovision video clips, as well as the announcement of the Eurovision: The Story of Fire Saga musical comedy, which will be released on Netflix in late June.

Actors Will Ferrell and Rachel McAdams will play aspiring Icelandic musicians Lars Erickssong and Sigrit Ericksdottir, who dream of winning the Eurovision Song Contest. It should be noted that the video fits perfectly into the format of the music show, so Netflix certainly has a chance.
An anti-vaccine cat tried to save his dog friend from a needle
Veterinarian Argenis Perez from Peru posted a video on his TikTok, where he was attacked by an anti-vaxxer cat. A cat and a dog were brought to the doctor. The first one needed a routine examination, and the second one needed to be vaccinated. As soon as the cat saw that his dog friend was going to be given an injection, he immediately decided to stick up for the four-legged one and attacked the doctor by getting its claws into his thigh. As Argenis Perez wrote on his TikTok, the cat did not cause him much damage, and he grabbed his leg more from surprise than from pain.
A cat fight behind the back of a journalist on live television
Another cat-fight incident occurred with Filipino journalist Doris Bigornia. Two of her cats, Bella and Nala, staged a brawl behind her when she went live from her apartment. The video instantly became viral and gained more than 2.5 million views. Whom do you support?
A goalkeeper cat that doesn't miss a single ball
Football enthusiast Chris Dixon posted a video on his Twitter where his cat masterfully protects the goal from all types of attacks. This cat does not miss a single ball! In three days, the video was watched more than 10 million times. Join this admiring crowd faster and make sure the video is worth the hype.
In China, they faked Dior x Nike Air Jordan sneakers by a leaked Instagram photo, mistaking the watermark as part of the design
A piece of significant news for fans of Nike and Dior: Dior x Nike Air Jordan sneakers shoes should be officially available soon. Legendary shoes will be released in a limited edition, but you can already find replicas from enterprising Chinese people on the market. With one funny nuance, though. Insider photographs of Air Jordan appeared much earlier than the release announcement.

They were published by the @solebyjc Instagram account that put a watermark with the profile name on the photos. As a result, enterprising Chinese took advantage of the photos and released fake sneakers. However, the replica manufacturer decided that the watermark was part of the original design and therefore decided to keep it.
And this is what real sneakers look like.
Two poodles came across each other on a walk, and it turned out that they were siblings! Now they can borrow money from each other
The story was posted on Twitter by user @libpincher. The tweet contains a sweet story and ultra-cute photos with two hugging poodles – white and black ones. A family reunion has taken place!
US football club made a mistake with the photo of the head coach and launched a "bald flash mob"
On May 21, Jaap Stam signed a contract with the MLS Cincinnati club of the USA. The club's official Twitter account welcomed the new head coach with a beautiful picture.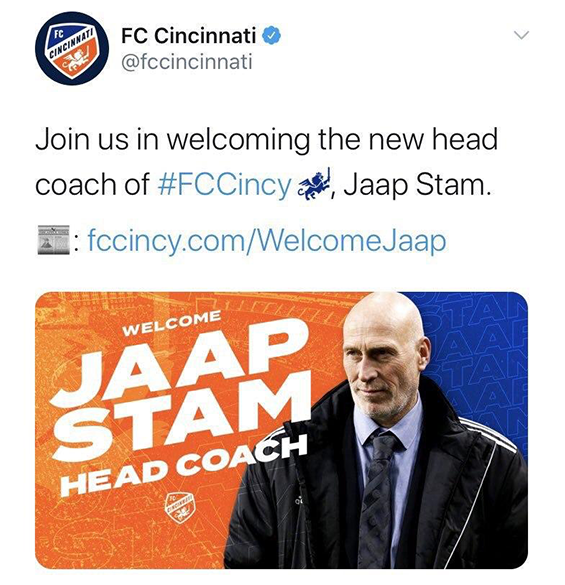 Everything would be fine, but there's one problem: this is not Stam. This is his fellow citizen and colleague, Tinus van Teunenbroek, Ajax youth manager.
The mistake was corrected, the guilty were given a yellow card, and now there's the right photo on the Cincinnati page with a note in italics that says, "actual new head coach."
But you cannot erase your fuckups from the web so easily! In the comments, well-wishers shared welcome photos of alternative "head coaches." Jason Statham, Mr. Proper, Vin Diesel, Bruce Willis, and other celebrities who have been instantly cast for a position on the basis of "the presence of a bald spot."